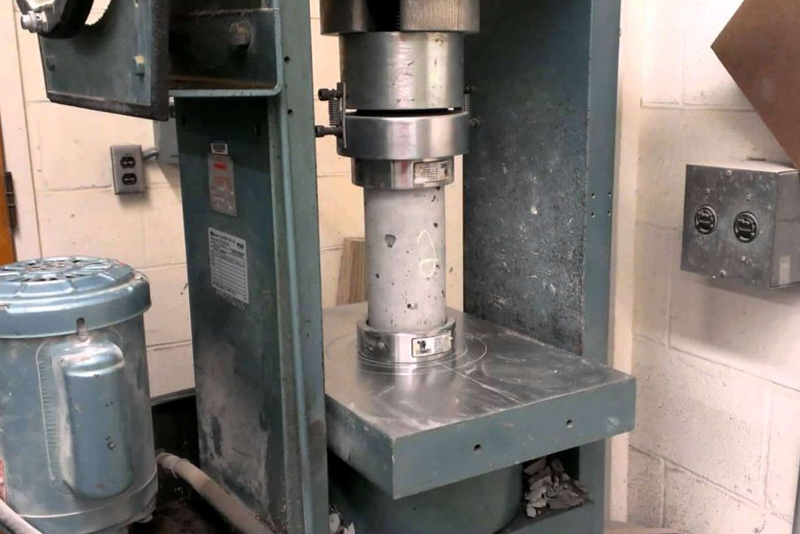 Concrete Core Cutting Test | Advance Inspection & Testing Lab
Concrete cores cutting test are used for Characteristics of concrete in existing structures, such as Compressive strength, chemical analysis, carbonation. We are undertaking testing of cores as a part of the health assessment of existing buildings.
Concrete Core Cutting

Tests
The first step of concrete core cutting test involve taking the core samples from the structure in a cylindrical shape of size 65 mm to 100mm depending on the size of aggregate using the diamond core cutting bits and subjecting the cores to compressive loading in the Compression Testing Machines, followed by the visual inspection of cracking as per IS: 516 Part 4
This is a partially destructive test that is used to co-relate various properties of the concrete viz. UPV, rebound number, etc. 
There are a few factors that affect the strength of the concrete core. 
Size of stone aggregate used, 

Presence of steel

Effect & shape of coring, 

Length of the core, 

the direction of core extraction w.r.t. the placing of concrete,

L/D ratio, 

Age of concrete etc
With so many factors contributing to the final, the strength variation may be + / – 10% – 15% from 150 mm saturated cube strength. However, it can be used to confirm the results of UPV, Rebound Hammer differing largely in the values & also for co-relation.
Hence the UPV & concrete core cutting test results, Rebound Hammer test should be interpreted & co-related.
Core Cutting Test on Bituminous Roads
Advance Inspection & Testing Lab has developed facilities like core cutting and testing, both for Bituminous and Concrete built-up roads.